The weaving section is the newest section at Norbulingka, created in 2010. The idea for the weaving workshop came out of a desire to create completely unique Norbulingka products; we reasoned that the more of the creation process we could take part in, the more special our products would be. Being in India, the land of textiles, already gives us close access to some of the finest raw materials in the world. We wanted to use these raw materials to create custom blends which exactly suited our needs.
Mostly, the fabrics are used in the creation of Norbulingka's and signature clothing line, the Traveler's Collection, a loose, comfortable collection whose items become better with wear. Each season our designers create new pieces inspired by the quest to perfectly fuse comfort with timeless fashion. For each piece a fabric is designed which will give just the right drape and texture. Once we have found the right combination, our weavers then weave the cloth on shuttle floor looms, which were imported to India by the British in the 1800's.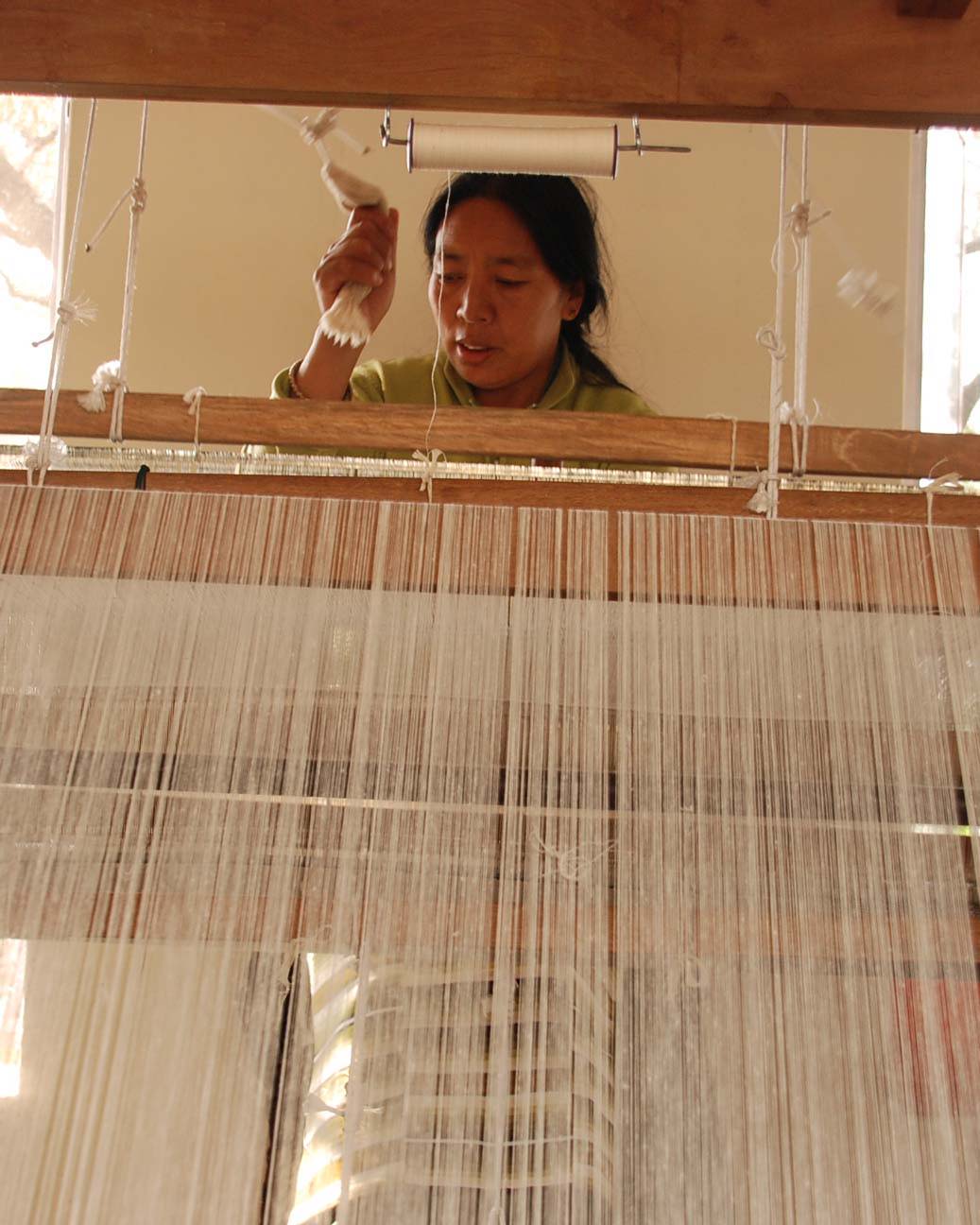 The cloth we produce is primarily made from unbleached organic cotton and indigenous silk thread, purchased from the Indian fiber states of Assam, Madya Pradesh, West Bengal and Bihar. Indigenous silk differs from the classic mulberry silk in that it is less smooth and shiny, but more textured and durable. We weave a few varieties of indigenous silk, each with their own texture and character. The main type we use, eri, is especially appealing to us as Buddhists. The manufacture of most silks requires boiling the silk cocoon with the worm still inside, thus killing the worm, but producing a longer thread. Eri, however, or buré as it is called in Tibetan, is made by harvesting the cocoon after the worm has already vacated it. It is therefore sometimes referred to as "nonviolent silk." This fabric was imported by Tibetans for centuries and used to make shirts and monks robes. However, it has since become a luxury item that has escalated beyond the price range of most Tibetans. By weaving the cloth ourselves, we are able to offer a more reasonable price and revive this Tibetan tradition. The cloth is then hand-dyed in our dyeing section, and prewashed, ready for wear.
Aside from weaving cloth for our collections, Norbulingka also comes out with a new range of shawls each season, light and breezy for summer, and warm and cozy for winter, lasting pieces, carefully knotted by hand.